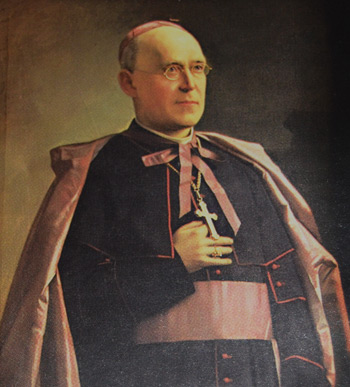 Bishop Joseph Hoare
Bishop Joseph Hoare came to Kiltoghert as Parish Priest in 1887 and remained as Pastor until his appointment as Bishop of Ardagh and Clonmacnois in 1895. While his stay in the Parish was relatively short, his contribution to the the Parish was significant.
Bishop Hoare was a native of Ballymahon. Ordained in 1867 after an outstanding academic career as a student in Maynooth he was first appointed to the Cathedral Parish of TempleMichael. In 1867 he was appointed President of St. Mel's College and was named a Canon by Bishop Woodlock in 1879. Two years later he was appointed Parish Priest of Streete where he remained until his appointment as Parish Priest of Kiltoghert.
Canon Thomas Fitzgerald had built the Parish Church of St. Mary's but it was left to his successor Canon Hoare to complete the furnishing of the Church and the development of the grounds, which remain substantially as he left them. He also had the Church in Jamestown renovated and re-opened for worship after it been closed for some twenty years.
Next Canon Hoare turned his attention to the needs of the people of Leitrim and the surrounding townlands and built the Church of St. Joseph there in 1888. Prior to 1888 no Church at all had existed in Leitrim.
Finally in 1892 Canon Hoare with the help of Fr. Thomas Hourican and the generosity of the people of Gowel built a new Church in Gowel on the site of a much older Church which had survived from Penal times and which as well as being a place of worship had served as a schoolhouse where as many as three teachers taught at the one time.
Father Thomas Hourican C.C. - Gowel 1887 – 1893
While a great deal is recorded of the life of Bishop Hoare, little is know of the Curate who undoubtedly helped him in the work of building the Church in Gowel. We know that Thomas Hourican came to Gowel in 1887 and lived in the Parochial House in Drumliffin which is now but a ruin.
Father Hourican was appointed Parish Prist of Annaduff in 1893 by his former Parish Priest, now his Bishop. He remained in Annaduff Parish until 1907. He was then appointed Parish Priest of Killerry and served the people of that Parish until 1915.